meals for monologues 2018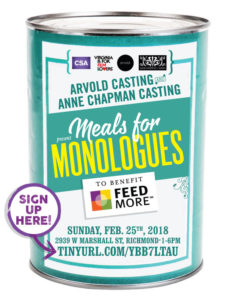 Casting directors Anne Chapman, CSA and Erica Arvold, CSA are hosting their annual Mid-Atlantic area Meals for Monologues event at Suite! in Richmond, VA on Sunday, February 25, 2018!
Meals for Monologues is a Casting Society of America (CSA) charity event that benefits a chosen food bank. Participants sign up for a slot to present a short monologue for a panel of professional casting directors in exchange for a small donation of nonperishable food items. The event is open to anyone who wants to participate, inviting those with any level of experience, beginner or professional.
Donations will benefit FeedMore Inc, a nonprofit organization that serves neighbors across Central Virginia, spanning nearly one-third of the state and targets children, families and seniors in particular.
Meals for Monologues will take place from 1pm to 6pm on February 25, 2018 in Richmond, VA and audition times must be secured by signing up in advance.
Click here to sign up for an appointment. Please sign up for only 1 appointment time. Actors will be seen every 5 minutes (crazy fun and crazy fast), so that we can all give back as much as possible!
Please prepare a 1 minute (or less) monologue to perform.
Please bring nonperishable goods to donate. Check out FeedMore's website for donation guidelines and most needed items.
Please bring 2 copies of your headshot and resume. Each must be stapled together back to back.
If you have any questions, please contact us at [email protected].
NOTE: Certainly, if anyone would like to purely donate non-perishable goods between 1pm and 6pm, we welcome their participation…but, if an actor would like to perform a monologue, they must sign up in advance and secure a specific time.
Location:
Suite!
2939 W. Marshall Street
Richmond, VA 23230
ALL INFORMATION ABOVE IS PROPRIETARY. DO NOT COPY. HOWEVER, YOU MAY SHARE THE LINK.